Thinking about or just got a new dog? Want to know how to better support a dog you already have? The 10th Modern Pet Dog Seminar held at Canine Kindergarten in Narrabeen last night focused on dog ownership and getting it right from the start.
Kicking off the night was Scott, a Ranger from the Northern Beaches Council. He emphasised the importance of registration which is a two-step process:
Microchipping the dog so it can be identified
Then registering it with the Council you live in so that if they do get lost they can be returned quickly and safely to you, as your contact information can be accessed through the Companion Animal Register of NSW.
It's also important to make sure your dog has your contact information on them – such as a tag on the collar or stitched onto it, this is especially helpful if neighbours find your dog and can then call you if it gets lost.
Ask lots of questions
Barbara Hodel from Goodog Positive Dog Training said that everyone should think carefully before getting a dog. A puppy is small for three months, but our dogs can live up to 12-15 years and medical technology is extending their lifespan. It's a big commitment.
She also said that some people are not best suited to having a dog, including those who:
Won't allow the dog in the house
Have small children
Work long hours or travel a lot
Will mind their home getting dirty
Aren't in a stable financial position
Aren't able to put the time in for socialisation and training.
Barbara also discussed the decision of getting a puppy versus a rescue dogs. She said there are perfectly find dogs that end up in pounds because of circumstances not related to them such as a family break up. You save a life and get to see how it is grown. Often they are already toilet trained and overall can be less time consuming that raising a puppy, which is why senior dogs make great pets. She also recommended prospective owners ask a lot of questions (such as what the dog is like with children or other dogs) and if the rescue service does temperament testing
If you do want a puppy, the most ethical way is through a registered breeder or to consider a puppy raising program such Guide Dogs. Barbara said all other sources of puppies are from puppy mills – pet shops, online or backyard breeders. Be sure to ask if you can visit the facility – if they say no that is a good sign it's a problem. If they offer to meet you half way to drop off the puppy, then it's also a warning.
"While you might give your puppy a great life, the parents won't have one," Barbara says about puppy mills. "Again ask a lot of questions and be sure to visit the facility before you commit so you can check it out for yourself."
There's lots of resources on www.dogtube.com.au about welcoming a new dog into your home.
Focus on management rather than training initially
Louise Colombari of Pittwater Animal Hospital said the most important thing in the first week is to set up the structure for your dog to succeed. Training can come later. "We need to teach them in a way they understand," she says. "Think about the rules of the house – where will the dog eat, what will it eat, where can it go in the house, where will it sleep. Get the whole family to agree and decide before the dog arrives. Then put the management plan into practice and establish routines, which will help the dog settle".
5 goals for the first week:
Potty training – show them where the toilet is, take them there often, prevent them and manage when they are inside. Might need to put in a pen or crate. Take them out on a regular schedule.
A food plan. Puppies need 3 x feeding up to 12 weeks then cutting back to 2. Think about what the feeding time schedule is – what gets fed when.
Bed time. Where does the dog sleep? The first nights in your new home can be very scary for older dogs and puppies. May want to start with them near you and gradually move them elsewhere.
Home alone – teach the dog to be home alone. Prevent separation distress. Teach them. E.g. in pen while in the other room, come back and reward etc. Leave them with something to do. Make abandonment a positive experience.
Around the house – where are they allowed to go, does it need to be safety proofed e.g. close bedroom doors, electricals etc.?
Socialisation is critical
Image source: https://www.flickr.com/photos/lilita/9709045843/sizes/l/
Louise says that merely exposing a dog to new things without making sure they are positive is not good socialisation. Find a good trainer but beware as it's an unregulated industry. Anyone can call themselves a trainer so ask lots of questions and be smart dog training consumer – ask about their qualifications, continuing education. If you don't get clear, concrete answers or are uncomfortable, keep shopping.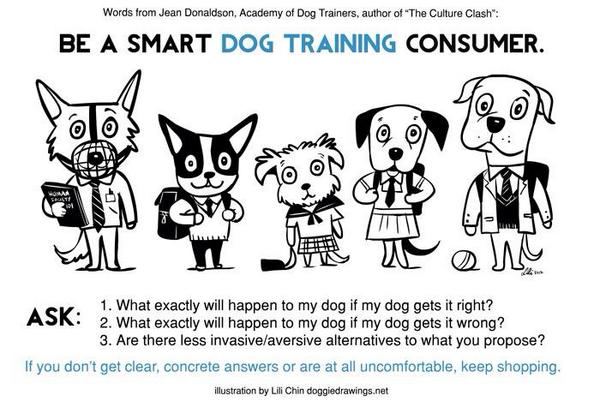 Dog services available
Maxine Fernandez of Canine Kindergarten spoke about the various services available to dog owners and gave tips on finding the right one to suit people's needs.
Vet clinics
Find one you're comfortable with
What additional services do they offer such as e.g. puppy classes, special interest areas?
Do they have additional qualifications such as behaviour or dentistry?
Do they use force free or low stress handling?
Make sure to pair with positive associations or just pop by for a visit.
Dog walkers / sitters / boarding
What qualifications or insurance do they have?
How many dogs do they take?
What exercise do they get?
Can you look at the facilities?
How is stress managed?
What's the injury prevention strategy and what happens if they need care?
Day care
What qualifications do the staff hold?
How many do they take?
Managing dogs – what takes place during the day care day?
What is the process for assessing dogs that are suitable for that environment?
Groomers
Do they make the experience positive? How?
Owners should condition dogs to touch / grooming noises and pair with a high reinforcers such as yummy treats to create a positive experience before they go to the groomer.
Fun stuff
Agility – dog directed through obstacle course time and accuracy
Rally O – numbered stations and an exercise at each sign
Nosework – search for a specific odour
It's a great way to build relationship and trust with your dog while allowing them to burn off mental and physical energy
Dog training
Find positive reinforcement trainers
What are their qualifications
Continued education is a must
What courses do they offer – pet dog, reactivity, trick, puppy?
What methods do they use – luring, shaping, clicker, targeting?
Environmental enrichment
Stuffed Kongs – dogs have to get the food out of it
Snuffle mat – dogs have to forage for their food
Food delivery toy e.g. automatic treat dispenser which can also be activated through remote control
Mind puzzle games which come in many shapes and sizes
If you want to find out about future events email barbara@goodog.com.au or follow the Modern Pet Dog on Facebook. The last one for 2017 is on 27 November in Narrabeen, Sydney.